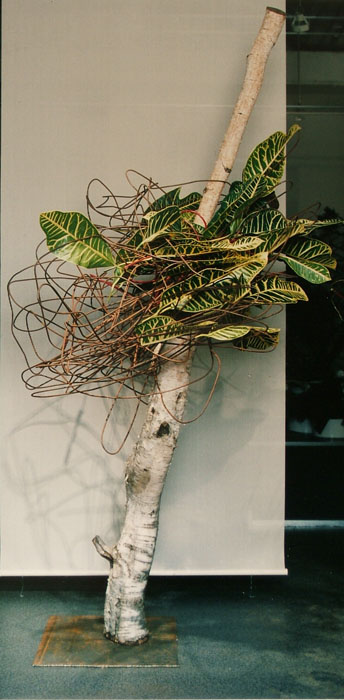 My art philosophy is based on contemporary Sogetsu ikebana. When I took my first lesson during my very first visit to Tokyo in 1984 I had no intention of becoming an ikebana teacher and artist. My first encounter with ikebana was a lesson with Master Teacher Koka Fukushima from Sogetsu Headquarters. I knew then that I had found my teacher and was ready to be guided onwards. It took several years of practicing, however, before I could understand some of the philosophy lying underneath the regular practice of arranging flowers.
The Sogetsu School of Ikebana believes that "anybody can arrange flowers anywhere, with any materials at any time". In the beginning I had no idea that studying ikebana would open me another world not only in flower arrangement but in other art forms as well. Soon after starting ikebana I began my studies in Japanese calligraphy in Tokyo with calligraphy artist Yoshiko Ichinose.
Back home in Finland I had studied modern dance almost all my life and now found my own expression in showing my performance art. I have had a chance to give several performances, mostly based on the Japanese aesthetics, in Japan and Finland. I also started to express myself in other art forms such as painting, drawing, recycling sculpture, installations etc.
The aesthetics found in all Japanese art forms have influenced my life and art in a very profound way. Ikebana for me means a way of life. In fact ikebana has changed my whole life. Ikebana, "kado", the way of flower is my philosophical way.